Advanced Systems Provides New and Used Mailing Machines.
Our used mailing machines are Professionally Refurbished or Rebuilt
and are delivered to you READY for your mailshop production floor.
We have Rebuilt or Refurbished base mail inserters, intelligent mail inserters, and mail sorting systems, plastic card embossing machines, inkjet addressing machines, tabbers, strappers, feeder folders, postage meters, unwinders, rewinders and much more...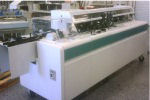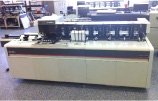 Our Mailing Equipment is
Professionally Reconditioned
by skilled craftsmen with at least 20 years of "hands-on" experience. Each listing states the current condition of the machine.
Advanced Systems guarantees
that all conditions listed are factual and comply with the description declared in
Glossary of terms
. Pictures are provided with most listings,
You get a quality system from Advanced Systems. There are no surprises.
Inserter Rebuilding is comprehensively explained on the
Inserter Rebuild Process
page.
Costs Less
Being assured of the current condition is a must, but the cost of the equipment is of equal importance. Purchasing a used or reconditioned machine costs, on average, 40 t0 60% less than the purchase of a new piece of equipment. And, with the same maintenance, a reconditioned machine can last as long on the prodution floor as its new counterpart.
You get the same functionality at a lesser price.
Service
At Advanced Systems, you can expect superior customer service. From pricing and purchasing to shipping and installation, our customers come FIRST. Advanced Systems can be contacted during any stage of the transaction by
phone
,
email
or with our handy
contact us
form. We are here Monday thru Friday 8:00am to 5:00pm CST to address your questions or concerns.
Our Products
Browse our Products pages to learn about new equipment and mail document matching systems for various equipment, including automatic feeder folders and mail inserters. We have module selections to meet all your embossing machine needs as well as sorting machines and sorter expansion additions.
Our Listings
Browse our listing pages to view rebuilt or refurbished equipment from all areas of the mailshop production floor. We even have a miscellaneous equipment page for that equipment commonly used on the mailroom production floor but doesn't fit a particular category.
There are hundreds of listings to choose from. Check It Out!

From basic machines to operating software and document matching systems for complex intelligent mail systems, we provide quality mailroom equipment for ALL departments in your lettershop.
Equipment Specials
Equipment Specials allow our customers to purchase quality used mailing equipment at lower prices while continuing to meet important job and budget requirements.
This listing provides a number of great deals on various mailing systems and other related equipment. They are made up of machine inventory overstock and are priced to sell!
Check out the
Equipment Specials Page
.
Machine of the Month
Introduclng the Machine of the Month
Every month, Advanced Systems presents one mailing machine as a special offer to our followers. Machines are chosen from the inserting, labeling, bindary, sorting and plastic card embossing departments of a mailroom production floor.
Machine of the Month
Automatic Match
Feeder Folder Systems
High Capacity, High Speed Systems
We are now offering Xtreme Vision Powered Feeder Folders. These are high capacity, high speed, bottom sheet feeder folder systems with an Xtreme Vision Reading package. They are designed to accumulate and fold multiple page sets at speeds of up to 30,000 plus per hour. They can be setup to run in-line with any existing intelligent or non-intelligent mail inserter. These feeder folder systems are PC controlled and can be setup to control all of the functions of the inserter, including an unlimited number of insert station selections.
Go to our High Speed
Feeder Folder
page to learn more.....
Consignment Selling
Sell Your Unused Equipment With Advanced Systems
Engage our vast network of buyers and sellers of
used mailing machine equipment
by selling your used working or non-working equipment on consignment with us.
Advanced Systems will list your equipment on our website at no cost to you.
See
Consignment Selling
to learn more about selling your used mailing equipment on consignment with Advanced Systems.


By Phone - We can be reached Monday thru Friday 8:00am to 5:00pm CST (614) 478-8011

By Fax - 614-475-4803


For specific equipment inquiries, please use our
request form

Have equipment for sale?
Sell your used mailing equipment on consignment. See our
Seller's Page
for more information.

Advanced Systems
10 E Schrock Rd,
Westerville, OH 43081
Intelligent Reading Packages
Intelligent Reading Packages are available for high volume cut sheet reading and letter folding, converting a base mail inserter into an intelligent mail inserter or any machine where a mark needs to be read for match verification, record sequence verification, read look up and print, or other requirements.
Xtreme Vision package.
Xtreme Vision is a PC Based Operating System that allows for easy and efficient upgrades for virtually any reading requirement in the print and mailroom environment.
See our
YouTube video
of an Xtreme Vision package at work on a plastic card affixer.
Whether you are just looking to add additional reading capabilities to your existing equipment or replace the outdated operating system on your present intelligent mail system, Advanced Systems and Xtreme Vision can provide the integrity and versatility needed at a price you can afford.
Plastic Card Embossing Systems
Whether you are looking for a basic table top card embosser or a heavy duty production system for your card issuance needs, we can provide the right solution to meet the necessary requirements.
From a production floor ready system to individual modules and upgrade parts to support your current
plastic card embosser
, Advanced Systems has it all.
You can call on us for a complete turnkey solution at prices you can afford.
For more about
plastic card embossing
, go to our to
Plastic Card Embossing
page.
To see available
pre-configured plastic card embossers
, see our
Plastic Card Embosser
listing page.
PTI and Bell & Howell
Mail Sorting Systems
If you are looking for a complete mail sorting system, upgrades, or are just in need of accessories, Advanced Systems has everything you need to upgrade or enhance your mail sorting system.
Check out what we have to offer:

Fully refurbished production ready PTI and Bell & Howell Sorting Systems.

Newly refurbished Videojet & Imaje Ink Jets and More
Advanced Systems has additional or replacement sort bins and replacement OCR cameras, inkjets, readers, and tray racks available.